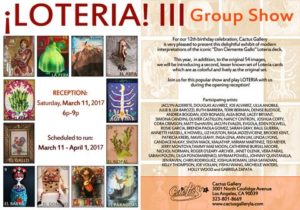 For their MARCH 2017 exhibit the gallery will be celebrating its 12th birthday by hosting its third annual "LOTERIA" themed exhibit. The exhibit will feature the original 54 images from the most commonly recognized standard deck by Pasatiempos Gallo, S.A. Join us for this charming show and play LOTERIA with us during the opening reception!
Participating artists used their assigned card as a springboard for their modern interpretation and the results are delightful. For context, the original card will be displayed alongside the modern interpretations.
Loteria is a traditional Mexican game of chance, played like Bingo, that uses images on a deck of cards instead of plain numbers. The Loteria deck uses 54 images, including characters, instruments, flora, animalia, and objects which have become iconic and synonymous with Mexican culture. Each has a name and an assigned number. The cards are very colorful and the imagery on them is broadly recognized in all of Mexico, other Latin American countries, as well as European nations.